When Richard Marks was in 10th grade, his father opened a video game store that was ahead of its time. It was the early '80s; used game sales weren't common, and the store - Video Exchange - ran on the gimmick that customers could trade in their games.
The store didn't last long. But for the young Marks, who held the title of chief demo officer, working there was like living in an arcade. Surrounded by open boxes, he played everything and recommended the best games to customers.
Atari 2600 games. Intellivision games. Anything on a console.
"The most exciting thing [was] when we'd get new hardware," he says, citing the ColecoVision Super Action Controller as an example. "We'd get so excited. And a lot of times the hardware didn't deliver up to the expectation. ... But it's still exciting anyway. Your memory somehow forgets that the previous piece of hardware wasn't quite what you wanted."
Today, Marks is one of the public faces behind PlayStation VR, Sony's entry into the increasingly crowded virtual reality market. He's one of hundreds of people who have worked on the headset over the past five years, shaping it from a hacked-together amalgamation of off-the-shelf parts into a futuristic-looking headset appearing in fashion magazines.
After a long development road, the headset is now scheduled for release later this year, and Sony recently invited Polygon to its PlayStation headquarters in both the U.S. and Japan to meet with Marks and other key figures, to learn more about how Sony's VR project came to be.
With any luck, Marks says he hopes it lives up the the expectations players have built up in their heads.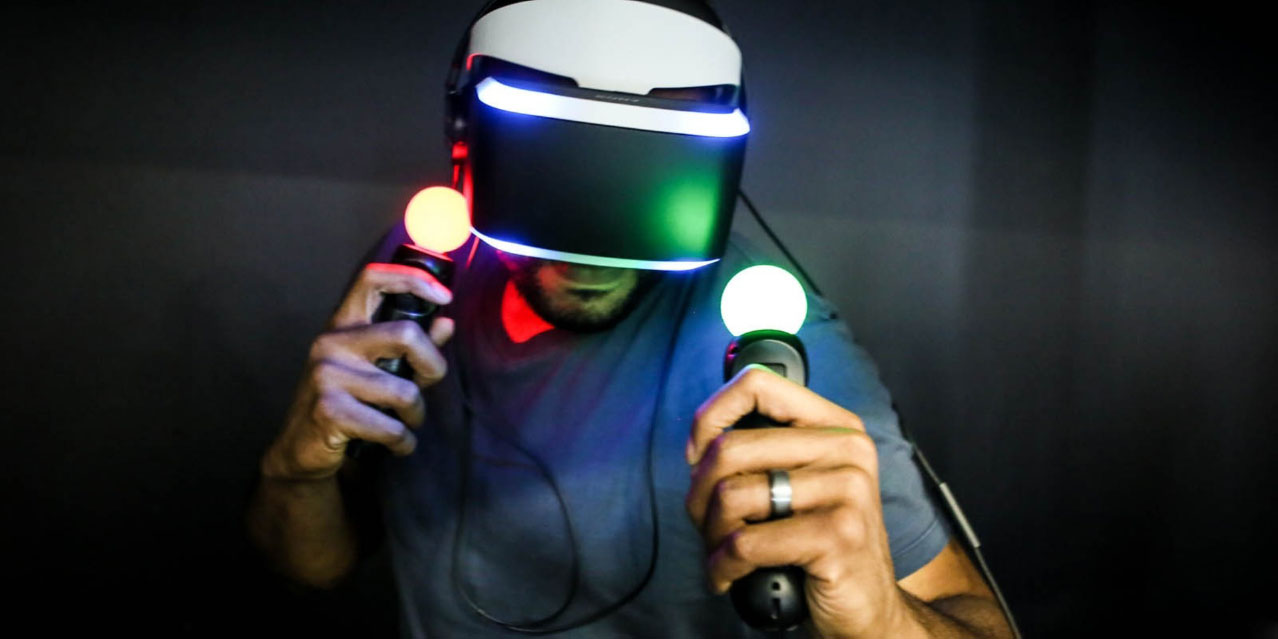 In a company of more than 7,000 people, no one person brings a VR headset to market.
Across multiple departments and offices around the world, including help from external partners, Sony's PlayStation VR team spans one of the widest swaths in the game industry. Someone who works on the 3D audio may never meet someone on the display team, or someone in legal, marketing, business development, hardware design or any of the other groups contributing to the headset. PlayStation executive vice president Masayasu Ito estimates that of PlayStation's more than 7,000 employees worldwide, in one form or another, 20 percent have contributed to PlayStation VR.
But the spark that lit the fuse began with Marks and a controller his team released in 2010.

Richard Marks
Since starting at Sony in 1999, Marks has worked on a variety of experimental ways to interact with PlayStation games. Some have taken off, such as the EyeToy camera that let PlayStation 2 players see themselves on the screen and play with simulated objects floating around them, like a weatherman on the evening news. Others never made it to stores, like a way to connect Sony's AIBO robot dog to PS2 and train it with a controller, or a high-end camera peripheral similar to what Microsoft released with Kinect.
In 2016, he's the director of a group called "Magic Lab" — a formalized name for what he and two others have been doing for many years, with more freedom.
They work on "pie in the sky" ideas and spend their days looking at what technology research is happening in the world, thinking about how it might apply to PlayStation. Magic Lab is researching eye tracking, for instance, to see if that's a practical way to control games.
Sometimes the group develops projects with no commercial intent. For a PlayStation 4 launch event, Marks and his team made a version of the classic game Breakout that attendees could play on the ground with their feet. For a sales conference, they made a game that 300 people could play simultaneously on a 100-foot screen. The team's cubicles resemble a science lab, with a miniature drone, 3D cameras, Nerf toys, an Emmy and a telescope scattered around. On the day of Polygon's visit, Marks shows a television screen that appears white to the naked eye, but when he holds a magnifying glass up to it, reveals a PS4 menu running on the screen.
"We wanted to call it Magic Lab so you understand they might not all come out as products," he says. "They're supposed to be kind of experimental."
Marks says that part of his team's job is to serve as the glue between different divisions of Sony, to keep them all up to speed on what other groups are attempting and to help out when certain groups start to push something forward.